HXJ_Crafter Publisher Editor
Joined since: 2016-8-16 Last play: 2018-7-18 Played: 2 days 2:22
Gender: BoyAge: 16Location: China
Gold: 195132 Income: 58318 Charts been played: 162 days 5:35
Stable charts: 101 Unstable charts: 19

#69
Exp.388480 Playcount:914
Acc.96.08% Combo:2653

#8
Exp.1981 Playcount:9
Acc.92.67% Combo:718

#6
Exp.4575 Playcount:16
Acc.95.75% Combo:473

#21
Exp.128947 Playcount:432
Acc.99.06% Combo:1023

#57
Exp.12511 Playcount:48
Acc.88.74% Combo:281

#112
Exp.64260 Playcount:267
Acc.94.11% Combo:653

#20
Exp.22198 Playcount:91
Acc.94.33% Combo:1024
QQ Number :2509010154
Assistant: AyaseEli
Notice
Discord is not available in China. So I don't take care of this Server anymore.
Status
Checking 4K Beta/5~7K Maps when August comes. 4K Alpha is ignored and low-quality Beta will be directly sent back to Alpha.
从八月开始看Beta图。Alpha的4k图一律不看,找我看Beta前也请做好心理准备,低质量的Beta会被我无理由打回
Note
Policy
4Key Full Publisher
5/6/7Key Assistant
Catch Semi-Publisher
Links On Mapping
Editor Manual Well if you are not famalliar with the Editor..
NoteArt It's the former generation Malody Editor which has been elimated.
Submitting a Chart See this before submitting!
How to stable your Chart MUST READ before you want to stable your map.
Chart level reference As the title, it's just a reference hehe. ->Level Check Publisher
Malody Publisher&Assistant Team Use this list to see who you can ask for help..
About Tags Well it's xipigu's profile.
Maps Counter
Mapping List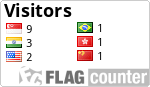 Catch+ Project
-
Editor: Feb.2 2017 Assistant: Aug.29 2017 Publisher: Feb.15 2018